System documents
Visy Industries – National Policies, Procedures and Forms
Training webinar
Step-by-step how to use the Visy Contractor Management System.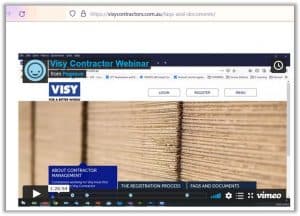 Helpful Resources
The Business Rules specify the requirements of the documents you upload in the system (licences, insurances, safety certifications). Ensuring your documents meet these requirements will save time and have you approved faster.
This Knowledge Base includes steps to check company compliance, search for and edit employees, run reports on competencies or work hours, and create users, among other helpful tips. This process can be completed in Onsite, the Pegasus software that powers the Visy Contractor Management System.
Complete and return this form if you have a new worker who is already registered to a different company in the system, and you need them added to your company. Workers can be removed from your company by an administrator directly in the system. Instructions on how to complete this process are available under the End Employment sub-heading of this page: https://kb.pegasus.net.au/display/OCCS/Person
Frequently asked questions
Please click to expand the FAQ below.
How do I know if I need to register my company in the Visy Contractor Management System?
Contractors must be registered in the system to work for Visy – they must register both their business and their staff who will work on Visy sites.
The system ensures you are qualified to perform work on behalf of Visy.
How much does registration and induction booking cost?
Annual registration is for the verification and ongoing registration of a company and its documents in the Contractor Management System.
Category High Risk: $AU300 + GST for the desktop audit (valid for two years),  $AU100 + GST annual account renewal fee.
SMS 4801 Compliant: $AU100 + GST for compliance verification (valid for two years),  $AU100 + GST annual account renewal fee.
Category Low Risk: $AU100 + GST annual account renewal fee.
+
Role Management Portal costs
Year 1 cost total is $57.50 + GST for:
Annual subscription (including competency document verification): $40 + GST
Inductions (per person per year): $7.50 + GST
Card: $10 + GST
Year 2 onwards cost total is $47.50 + GST for:
Annual subscription (including competency document verification): $40 + GST
Inductions (per person per year): $7.50 + GST
Replacement cards cost $30 + GST per card.
What is the timeframe for Pegasus to process my document uploads?
All documentation will be processed within 24-48 hours of submission, please ensure you take this into account when planning work on a Visy site.
Which Visy sites require registration?
Current sites requiring registration in the Visy Contractor Management System:
New South Wales:
Tumut (VP9 & VP10)
Smithfield (Paper Mills 3 & 6)
Victoria:
Reservoir (VP2)
Coolaroo (VP4 & VP5)
Coolaroo Cogeneration Plant (WTE)
Queensland:
What certifications must a company hold to register in the system?
Public and Product Liability insurance of $20M for any one occurrence
Workers Compensation Insurance for Australian companies who pay more than $7,500 in wages
Personal ​Accident & ​Income Protection Insurance for Australian sole traders
Expat / Travel insurance for international vendors outside Australia and New Zealand
If applicable, other forms, insurance, or licences such as:

Motor Vehicle and Plant Insurance
Marine / Transit Insurance
High Risk Licencing
Electrical Licencing
For Self Supervised contractors, ​safety related documentation such as:
Safe Work Method Statements (SWMS)
Incident Management Procedures
Training / Induction Procedures
Drug and Alcohol Policy
Heavy Haulage Vendors to complete an additional Safe Transport Assessment relating to the Chain of Responsibility (COR) legislation.
What do I do if I have subcontractors working for Visy?
Visy has a duty of care to ensure all contractors are compliant with work health and safety requirements. If you engage subcontractors to perform work on a Visy site, then those subcontractors should also register to identify their company and employees. Please ensure that any subcontractors you engage follow the process to register  prior to attending a Visy site.
How often do I need to renew my registration?
You will be emailed to follow the process to renew your registration in the system every 12 months.
What benefit does the Contractor Management System have for my company?
Registration ensures you're qualified to work for Visy and to choose the sites you work on. It allows you to keep all of your business and employee information up to date in one place online, and to update your documents as required.
Who do I contact if I have questions about the Contractor Management System?
You can contact the Pegasus team during business hours on 1300 217 382  or email visy@pegasus.net.au.
Site Access Role Updates – March 2020
In March 2020, Pegasus introduced new functionality to help Visy contractors manage site access requirements.
Workers that previously had roles assigned with either the Previously Inducted or New Worker suffix have been transitioned to the Site Access Role for each of their Visy sites.
For roles which require inductions to be completed, you will be given the option to either upload the completed induction certificate, or to invite your worker to complete the induction online.
Please continue to maintain site access requirements to avoid any site access disruption.