The Visy Contractor Management System process is outlined below.
We suggest you read through the process before starting, and allow yourself time to source and upload your company documents and information.
These sites require registration in the Visy Contractor Management System:
You can find detailed user guides for the system (with screenshots) on the FAQ's and Documents page.
The two-step process is detailed below – simply click to expand the sections.
Company registration (click to expand) +
Step 1 > Register a user name and password
The Visy Contractor Management System can be found by clicking Register at the top of the page >>
Start by entering a user name of your choosing, plus your email address and a password. You'll be emailed confirmation.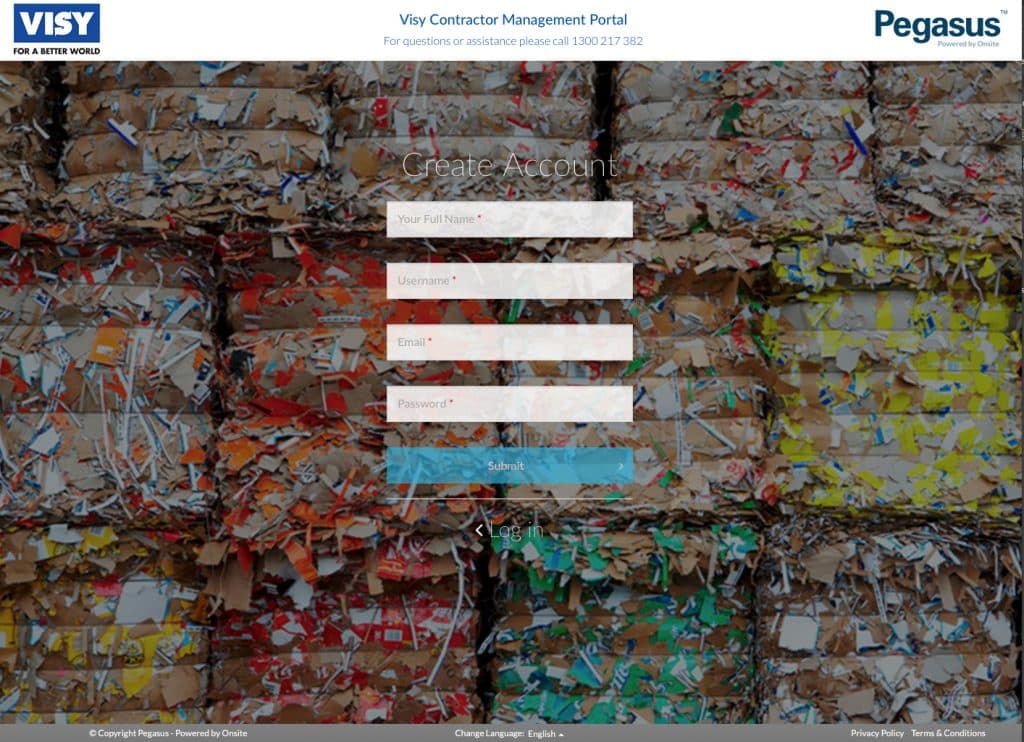 Step 2 > Register business details
Using your new details, login to the Visy Contractor Management System by selecting Login at the top of the page >>
You may now follow the process to register your company details by answering profile questions and selecting the insurances and licences you can supply to support your registration. The information you enter here will determine your category and therefore, the cost of your registration.
Step 3 > Pay for registration based on category
You will now be categorised using the information you have provided. The costs depend on category:
Category High Risk: $AU300 + GST for the desktop audit (valid for two years),  $AU100 + GST annual account renewal fee.
SMS 4801 Compliant: $AU100 + GST for compliance verification (valid for two years),  $AU100 + GST annual account renewal fee.
Category Low Risk: $AU100 + GST annual account renewal fee.
Step 4 > Upload documents for verification
You will finally be prompted to upload copies of the licences and insurances you selected earlier in the process for verification.  You'll be emailed when your documents are verified, or informed of any corrections you must make to finalise company registration. Documents may include but are not limited to:
-Public and Product Liability insurance of $20M for any one occurrence
-Workers Compensation Insurance for Australian companies who pay more than $7,500 in wages
-Personal ​Accident & ​Income Protection Insurance for Australian sole traders
-Expat / Travel insurance for international vendors outside Australia and New Zealand
If applicable, other forms, insurance, or licences such as:
-Motor Vehicle and Plant Insurance
-Marine / Transit Insurance
-High Risk Licencing
-Electrical Licencing
For Self Supervised contractors, ​safety related documentation such as:
-Safe Work Method Statements (SWMS)
-Incident Management Procedures
-Training / Induction Procedures
-Drug and Alcohol Policy
Heavy Haulage Vendors to complete an additional Safe Transport Assessment relating to the Chain of Responsibility (COR) legislation.
To complete your registration, you will next register your employees and book their inductions by following the link in the confirmation email you receive.
Employee registration & induction bookings (click to expand) +
Step 1 > Following the link you receive in your company registration confirmation, create an account in the Visy Role Management Portal (note, this is a different system than the company registration portal). Select to Manage Employee Data and then Add Employee. Complete the details about your employee, and Save.
Step 2 > Click Process next to the employee's name to Select Roles they'll complete on Visy sites. Save to have their access ID card processed and sent.
Step 3 > The system will prompt you to upload evidence of their qualifications to work in the role/s you've selected, including a photo for their ID card.
Step 4 > As you've selected role/s, corresponding training may have also been chosen. If required, you can now book the inductions your employees must complete to work on Visy sites. Select the training, add to cart and proceed to checkout to pay.
Cost (these will be consolidated on the payment page)
Year 1 cost total is $57.50 + GST for:
Annual subscription (including competency document verification): $40 + GST
Inductions (per person per year): $7.50 + GST
Card: $10 + GST
For more information on costs, please view the FAQs.
Step 5 > Pegasus will review the registration and training request, and on approval, you'll be emailed details about booked training. Your employee cards will also be sent.
For Visy Tumut contractors
Step 6 > Visy Tumut site inductions can only be attended after you have registered your workers and they've completed the online induction/s above.
Please allow time for your worker's registration to be verified and for them to complete their online inductions. Once the role application is approved, email tumut.inductions@visy.com.au or call 02 6947 7520 to book the site induction.